Composters
Discover the Power of Composting
Read more
Composters
Discover the Power of Composting
Read more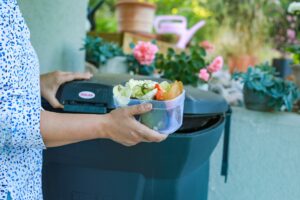 Discover the Power of Composting:
Composting is an easy yet impactful choice that benefits your home and the planet. Reduce waste, cut costs, and support a healthier environment by transforming biowaste into valuable soil conditioner.
Why Choose Composting:
Around a third of household waste is biodegradable. Composting diverts this waste from landfills, curbing methane emissions and foul odors. By composting kitchen scraps, leftovers, and peels, you contribute to a healthier Earth and save on soil conditioners for your garden.
Environmental and Economic Benefits:
By opting for composting, you're actively reducing landfill waste and the greenhouse gases it produces. As biowaste breaks down naturally, you're creating nutrient-rich compost for your garden while minimizing waste collection expenses.
Easy Steps to a Greener Lifestyle:
Join the movement toward sustainable living. Make a positive impact by embracing composting – a small effort with big rewards for both you and the environment.